DIY Workbenches: 5 You Can Build in a Weekend
The workbench is a DIY project's hub. It's where supplies are kept and progress gets made. Sure, you can buy a workbench, but unless you're upgrading to a professional European-style model, I recommend building your own. A basic, customizable bench requires only two tools—a saw and a drill. Scroll down to see five DIY workbenches you can build in a weekend.
1. WORK TABLE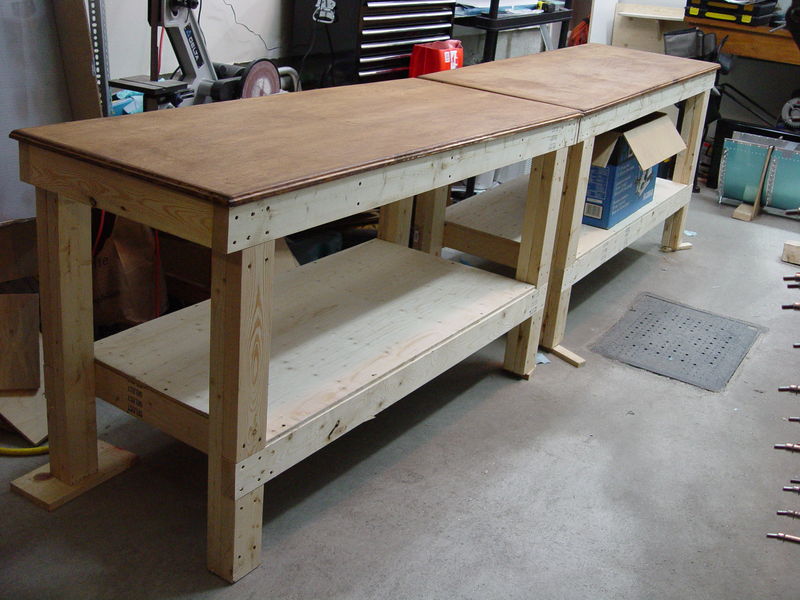 Photo: EAA
Designed for building small aircraft, this work table is built from easy-to-find materials and features simple yet rigid construction. Though it's able to withstand a banging, the table is still lightweight and compact enough to be portable. I use a similarly designed bench in every single one of my projects and I love it.
2. GARAGE OR BASEMENT BENCH
Photo: Family Handyman
This workbench from The Family Handyman perfectly suits those who work in a garage or basement (any space that is shared with other family activities). The setup includes a stable surface for hobby or repair projects, a built-in pegboard for storage, a shop light, plus a recessed shelf that allows for seating.
3. TOOL CABINET WORKBENCH
Photo: Woodsmith Magazine
If you are looking for a mobile or small-space solution—or you want a secondary work surface to complement an existing bench—consider this idea from Woodsmith: a rolling tool cabinet outfitted with a solid top. A small vise and a power strip are included here, along with magnetic and pegboard tool storage, not to mention the storage provided by the cabinet drawers.
4. DOOR-TOP BENCH
Photos: Woodgears
Planning on doing some serious work with hand tools? A solid-core door makes an excellent workbench top, as in this design from Woodgears. The base is made of affordable dimensional lumber, with joints that are both glued and bolted, meaning this bench is not only a thrifty option, but a sturdy one, indeed.
5. LAMINATED MDF WORKBENCH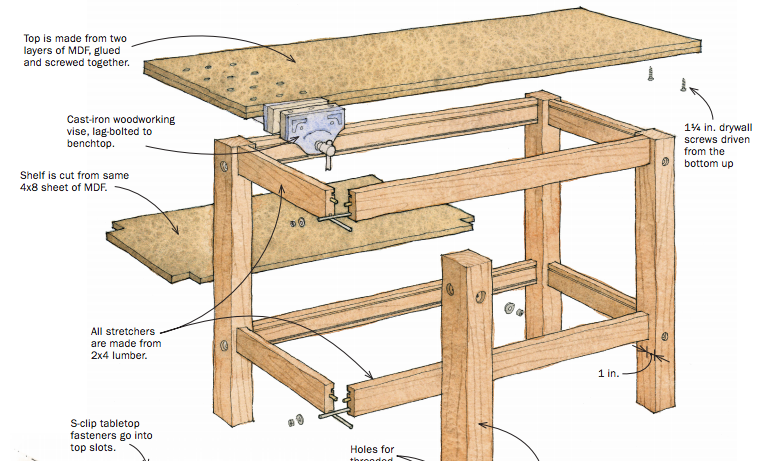 Photo: Fine Woodworking
My next bench will be inspired by this design from Fine Woodworking. Though intended for sophisticated woodworking, it won't cost a lot to assemble. The top uses two sheets of laminated MDF, and the plan incorporates handy features like bench dog holes and a woodworking vise.
 Source Of Article : http://www.bobvila.com